Comprehensive Vehicle Background Checks
Access Millions of Junk, Salvage & Loss Records
Search our extensive online database to locate millions of junk, salvage and loss records. Don't waste time anywhere else; ours is the most comprehensive search tool for vehicles, bar none!
Access Vehicle Title Records
Before you buy that used car, search our National Motor Vehicle Title Information System (NMVTIS) to access the title history and find out all the details of who owned it and what happened.
Find Out Vehicle Recalls & Defects
Get all the facts! Make sure the car you are purchasing has had all its recalls and defects repaired by using our complete online search tool before you buy.
Check Vehicle for Fire, Hail & Flood Damage
Don't be fooled by a dealership trying to pawn off a fire, hail or flood-damaged car. Check your vehicle's history before putting down that deposit and purchase confidently.
Access Repair & Rebuild Records
Search our high-quality, reliable data to check for repair and rebuilds on used cars. Do a little homework now and avoid costly headaches later.
Uncover Prior Accidents & Damages
The seller may not be honest about accidents and damage to the car so before you put down your hard-earned money, check our secure, private database to uncover all the details.
Access Vehicle Specifications & Odometer Reading
Save time when searching for that perfect car by checking our vehicle specification and odometer readings report. Find out exactly what you are buying before you purchase.
Check Vehicle Current & Past Owners
Want to be sure your car has a clean title history? Use our extensive search engine to find out every owner of your used car and make sure there are no hidden lien-holders out there.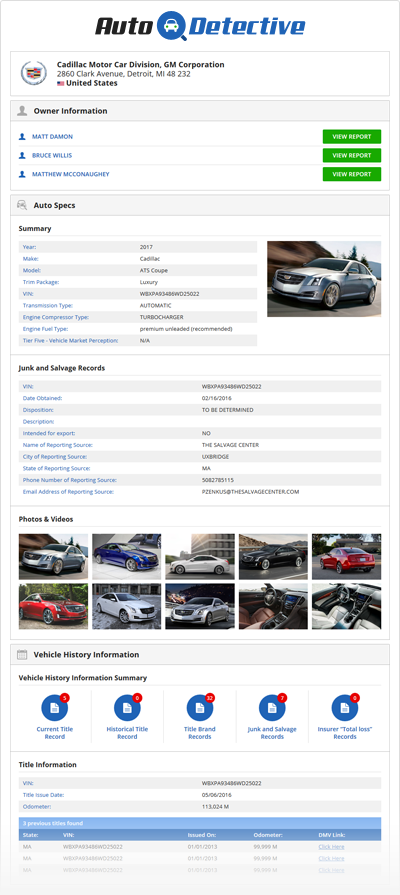 Access AutoDetective.com from any device, anywhere and anytime!
Tap into more than 1 billion vehicle records from any device. Simply enter any VIN from the comfort of your home with your desktop computer, laptop or tablet. On the go? No problem! Look up records any time from your smartphone. Our comprehensive reports contain every available record on any vehicle so you can make informed decisions before making a purchase.